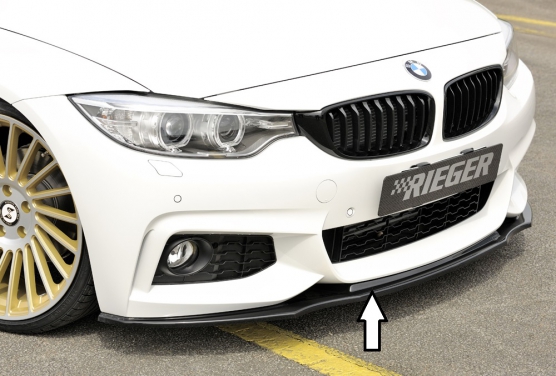 Rieger front splitter
for original M-Series front bumper
K 00088086
5 or more on stock
BMW
4-series F32 (3C): 11.12-06.15 (befor facelift), 07.15- (ex facelift) LCI | coupe (3-dr.)
4-series F33 (3C): 03.13-06.15 (before facelift), 07.15- (ex facelift) LCI | convertible
4-series F36 (3C): 05.14-06.15 (befor facelift), 07.15- (ex facelift) LCI | gran coupe (5-dr.)
198,00 EUR
- 15 % Discount
168,30 EUR
2023-12-12
Merken
Manufacturer:

Rieger

Item No.:

00088086

Article Description:

Rieger front splitter for original M-Series front bumper

Item Properties:

straight version, for oiginal front bumper, ABS plastic, glossy black, for cars with M-Technic,
incl. general operating license, mounting equipment

Material:

ABS plastic

Productcontents:

general operating license

Approval:

entry free, eg article with ABE/§-Certificate (general operating permission) shipped (no registration required).

Vehicletype:

BMW 4-series F32 (3C): 11.12-06.15 (befor facelift), 07.15- (ex facelift) LCI | coupe (3-dr.)
4-series F33 (3C): 03.13-06.15 (before facelift), 07.15- (ex facelift) LCI | convertible
4-series F36 (3C): 05.14-06.15 (befor facelift), 07.15- (ex facelift) LCI | gran coupe (5-dr.)

Vehicleproperties:

M-Technic

catalog page: 208 catalog page: 209

Article in the execution PUR, fibre-glass, ABS-plastic or ABS-plastic/carbon-look are delivered unpainted. Lacquering of these parts is necessary prior to final assembly.
Articles in execution ABS-plastic/glossy-black or ABS-plastic/matt-black (finish) have a surface finish and therefore do not need to be painted.
4-series F32 (3C): 11.12-06.15 (befor facelift), 07.15- (ex facelift) LCI | coupe (3-dr.)
4-series F33 (3C): 03.13-06.15 (before facelift), 07.15- (ex facelift) LCI | convertible
4-series F36 (3C): 05.14-06.15 (befor facelift), 07.15- (ex facelift) LCI | gran coupe (5-dr.)

straight version, for oiginal front bumper, ABS plastic, glossy black, for cars with M-Technic,
incl. general operating license, mounting equipment

General operating license valid up to 250 km/h V-max.

Delivery Time: 2-5 Business Days
You can receive the 15###% bodykit discount for ordering a whole bodykit just for the same car. (consisting of a lip spoiler / bumper, side skirts and a rear skirt extension / insert / bumper) The discount is just possible for original rieger spoiler parts made of ABS plastic. It applies only if the parts are all for the same type/car.
To receive the discount please mention this notice - 15###% BODYKITRABATT - at your order.
The discount is not possible to combine with any other discounts.
The discount does not apply to "paint jobs" (coloring).
---
5.0000
Schneller Versand, gute Verarbeitung 25.07.2022
from Martin Bastian
Das Riegerschwert für den F33 in schwarz glänzend ist eines der schönsten Schwerter für den BMW 4er die Qualität ist hervorragend und das Schwert ist einfach zu montieren.
Dieses Schwert ist nur zu empfehlen!!!!
---
Passt perfekt! 08.09.2021
from Paul Schick
Passgenauigkeit 100%
Aussehen schön dezent
---
Einfach perfekt! 23.03.2019
from René Jonas
Super Passgenauigkeit. Artikel ohne Kratzer oder Beschädigung. Immer wieder gerne.
---
Top Ware 04.08.2017
from Giovanni Venisti
Super passgenauigkeit und Top Ware .
---
Gefällt mir 18.08.2016
from Verdibmw
Spoilerschwert gefällt mir sehr gut. Versand war auch sehr schnell.Alles toll gelaufen. Danke euch
---
authenticity of the ratings
| | | | | | | | | |
| --- | --- | --- | --- | --- | --- | --- | --- | --- |
| BMW | 4er F32 (3C) | | Coupé (3-tür.) | 11.12-06.15 (bis Facelift) | | | | |
| BMW | 4er F32 (3C) | | Coupé (3-tür.) | 07.15- (ab Facelift) LCI | | | | |
| BMW | 4er F33 (3C) | | Cabrio | 03.13-06.15 (bis Facelift) | | | | |
| BMW | 4er F33 (3C) | | Cabrio | 07.15- (ab Facelift) LCI | | | | |
| BMW | 4er F36 (3C) | | Gran Coupé (5-tür.) | 05.14-06.15 (bis Facelift) | | | | |
| BMW | 4er F36 (3C) | | Gran Coupé (5-tür.) | 07.15- (ab Facelift) LCI | | | | |