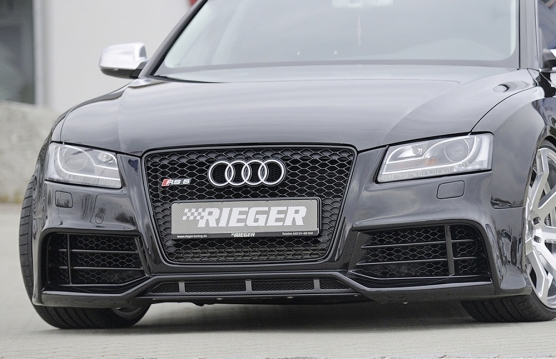 Rieger front bumper

K 00055430
5 or more on stock
Audi
A5 (B8/B81): 06.07-07.11 (before facelift) | coupe, convertible, sportback
A5 S5 (B8/B81): 06.07-07.11 (before facelift) | coupe, convertible, sportback
529,00 EUR
Merken
Manufacturer:

Rieger

Item No.:

00055430

Article Description:

Rieger front bumper

Item Properties:

the serial fog lights get inapplicable, ABS plastic, for cars with headlight washing system, S-Line Exterieur and without S-Line Exterieur,
incl. mounting equipment, general operating license

Material:

ABS plastic

Productcontents:

general operating license

Approval:

entry free, eg article with ABE/§-Certificate (general operating permission) shipped (no registration required).

Vehicletype:

Audi A5 (B8/B81): 06.07-07.11 (before facelift) | coupe, convertible, sportback
A5 S5 (B8/B81): 06.07-07.11 (before facelift) | coupe, convertible, sportback

Vehicleproperties:

S-Line Exterieur and without S-Line Exterieur

catalog page: 83 catalog page: 88 catalog page: 90 catalog page: 91 catalog page: 94

Article in the execution PUR, fibre-glass, ABS-plastic or ABS-plastic/carbon-look are delivered unpainted. Lacquering of these parts is necessary prior to final assembly.
Articles in execution ABS-plastic/glossy-black have a surface finish and no long
A5 (B8/B81): 06.07-07.11 (before facelift) | coupe, convertible, sportback
A5 S5 (B8/B81): 06.07-07.11 (before facelift) | coupe, convertible, sportback

the serial fog lights get inapplicable, ABS plastic, for cars with headlight washing system, S-Line Exterieur and without S-Line Exterieur,
incl. mounting equipment, general operating license

The serial fog lights get inapplicable.

Note:
The installation of this spoiler bumper must be carried out by experienced professionals. The time required for trial assembly including fitting and final assembly of the spoiler bumper is higher than the installation of an original bumper. This increased effort must be taken into account when calculating installation costs.

Delivery Time: 2-5 Business Days
Delivery option : Spedition
You can receive the 15###% bodykit discount for ordering a whole bodykit just for the same car. (consisting of a lip spoiler / bumper, side skirts and a rear skirt extension / insert / bumper) The discount is just possible for original rieger spoiler parts made of ABS plastic. It applies only if the parts are all for the same type/car.
To receive the discount please mention this notice - 15###% BODYKITRABATT - at your order.
The discount is not possible to combine with any other discounts.
The discount does not apply to "paint jobs" (coloring).
---
3.5000
Optisch Klasse 03.05.2016
from Bernibl8
Ich finde den Preis zu hoch für diese Stoßstange. Das Zubehör kommt ja auch noch dazu. Ich werd mir das nochmal überlegen.
---
Schöne Stoßstange 03.05.2016
from Florena78
Sehr schöne Stoßstange. Was mich stört, dass die originalen Nebelscheinwerfer nicht mehr benötigt werden.
---
authenticity of the ratings
| | | | | | | | | |
| --- | --- | --- | --- | --- | --- | --- | --- | --- |
| Audi | A5 (B8/B81) | | Cabrio | 06.07-07.11 (bis Facelift) | | | | |
| Audi | A5 (B8/B81) | | Coupé | 06.07-07.11 (bis Facelift) | | | | |
| Audi | A5 (B8/B81) | | Sportback | 06.07-07.11 (bis Facelift) | | | | |
| Audi | A5 S5 (B8/B81) | | Cabrio | 06.07-07.11 (bis Facelift) | | | | |
| Audi | A5 S5 (B8/B81) | | Coupé | 06.07-07.11 (bis Facelift) | | | | |
| Audi | A5 S5 (B8/B81) | | Sportback | 06.07-07.11 (bis Facelift) | | | | |
---
Customers who viewed this item also viewed
---
Customers who bought this item also bought